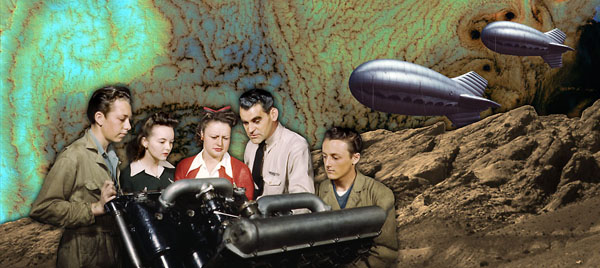 The Anatomy Lesson, digital collage
image size = 4700×2100 pixels, aspect ratio = 1:2.236
©2012 Doug Craft
Today's Lucid Thoughts post I will introduce and peek into the creative world of Doug Craft.  It actually quite difficult to define him.  He is not solely a photographer, because he also is a collagist.  He is not only a collagist because he loves music and has an extensive collection of vintage guitars.  And on the seemingly non-creative front he is a scientist to boot too.  Doug has the ability to combine all of the elements that influence in the collages that he creates.
Doug Craft is an amazingly gifted artist that I met back on the wild west days of Myspace.  I am starting to think that I should have called these posts, the Lucid Thoughts of the Wild Cyber West.  His interests in the golden ratio, and sacred geometry were some of my first lucidly communications with each other.  He had taken one of my photographs into Photoshop, and had laid a series of lines and boxes over the image to show that I was seeing these ratios, even though I wasn't consciously aware of them.
Doug clued me in to being more conscious of these design elements when was in the moment of composing images.  My compositional style was able to take giant steps as a result from my interactions with Doug.
Doug has an exceptional photographic eye; however, I really became interested in how he used his eye to construct simple, beautiful collages.  He avoids the trap of many collagists that think more is better.  He allows his strongly constructed compositions communicate to the viewed though his guidance by mathematical relationships between the space in the collages.
This might all sound a bit too scientific, but there is creativity to be found in the scientific process too.  Doug's exploration of his microphotos explore the natural world that can only be seen with the help of scientific equipment.  These microphotos  then become an element in his collages.
Looking at Doug's collages I often feel as if I am peering into his past.  He often incorporates photographs that he has salvaged from his own family albums.  I peer into a black and white photograph of group of women in the 1950s superimposed over a surreal microphoto background.  All of these diverse elements working in harmony to create some fantastic collages.
I am so pleased to bring Doug Craft's work to the Lucid Communication family.  I hope that you all will take the time to read through his thought provoking interview and explore his website for more inspiration.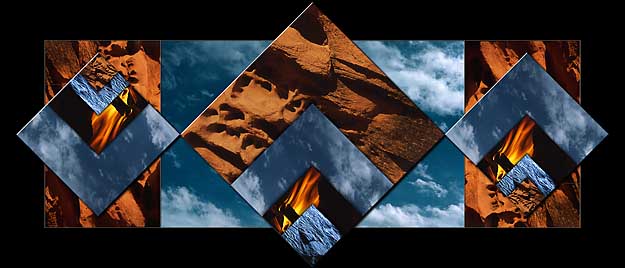 EARTH – Elements 1 3(phi) 2004-002, digital collage,
aspect ratio = 1: 2.854
©2005 Doug Craft
Doug, please introduce yourself to the Lucid Communication community.
Hi, I'm Doug Craft, an artist, musician, and scientist who lives and works in Colorado. I worked 34 years as a research chemist for the Department of the Interior and have been alternatively pursuing art and music since high school. Since retiring in 2008, I am working mostly on music and art in my basement studio. I play bass in an improv prog metal band, Slag Heap, with Max Shiffman (drums), Tristan Cargnell (guitar) and E.J Posselius (guitar, synth). I am married to Randa, and have 2 cats, Henry and Mookie. Life is good!
When did you first become interested in photography?
I was 16, and like taking up the guitar around the same time, I had hopes of impressing women with a camera. Sad but true!
What was your first camera? And do you still have it?
I started shooting on an Argus C3 my parents had in the closet. It was a 35-mm rangefinder camera that had taken maybe 4 or 5 rolls of film and I decided to go for it. I learned how to guesstimate exposure and how to print black and white using the Kodak series photography pamphlets that were sold in camera and department stores in the early 70s. I was able to use a darkroom at a nearby Navy base where they allowed military family members access. They provided everything – developer, fixative, timers, enlarger. After a period of shooting with the C3, I became more involved playing music, and drifted away from photography. My mom may still have the Argus somewhere in her house.
I think of my "first" camera as the SLR I bought in 1978 after I had been working as a chemist for several years. It was an Olympus OM-1n and that was my main camera for many years and many rolls of film. It was/is an awesome and dependable camera! This was the viewfinder where I became a decent shooter, and began to see the world in a composed frame. I continued shooting the OM1 – mostly Agfa Scala (an ISO 200 B&W slide film) – from the late 90s through 2003, when I went digital and decided to sell off all my medium format and 35-mm film cameras to get my Nikon D-70 and some Macro lenses. I have fond memories of my OM-1 and how clean and crisp it felt to shoot – but film is disappearing – and I was glad a guy who was a die-hard film buff bought it.
(editor's note: it amazes me that so many photographers all started out using some cheap camera that was lying around the house, or were given one by a family member.)
How did photography lead to making collages?
In my case, photography did not lead to making collages. But my collages have definitely led to more photography.
I began making collages after taking several classes from my art mentor, Duncan Stewart, an art professor at the University of West Florida. Duncan is still active as a working artist, a great teacher, painter, and collagist.
Back then, I was making collages using images cut and pasted from magazines. Copyright law was much more reasonable and lenient then and there was a generally forgiving legal attitude towards collage artists. Judges ruled against Coca-Cola when they sued Rauschenberg for trademark infringement for using an image of a coke bottle in one of his collages. That would just not happen today. When I decided to "get serious" about art in 2000 and joined CORE New Art Space, a Denver co-op gallery, I found out that intellectual property law had changed big time. I eventually realized that I would have to generate my own image stock and figurative image material – which is why I seriously expanded my photography activity since 2000.
Where do you get your source material for your collages?
Back in the day, I would look for old magazines in antique stores – I tried to find higher quality magazine paper that would lay flat when pasted, and keep an open eye for technical images and microphotos I would see in lab magazines at work. I still have boxes of materials I collected and cut out over the years. I can't use them nowadays without legal risk, but I can't toss them out either. Since 2000, I have either shot my own collage materials, or found public domain sources for imagery I was drawn to. There are some excellent public domain sources now for higher resolution images that meet my image needs. That was not true even 5 years ago.
I obtained a set of large Landsat satellite images of earth from space from the US Geological Survey, the NASA Earth from Space site, and images of deep space objects and planets from the University of Massachussetts/NASA 2-Micron All-Sky Survey (2MASS), and the NASA space telescope and planetary probe sites. The earth and space images have great fractal qualities that are also seen in microphotos and macro photos I have shot since 2000. I have also created my own mathematical fractals using the Ultra Fractal and Fractal Extreme programs. These images are used as abstract/fractal backgrounds in my figurative collages, and as collage of background elements in my Golden Ratio collages like the Elements in Golden Ratio series.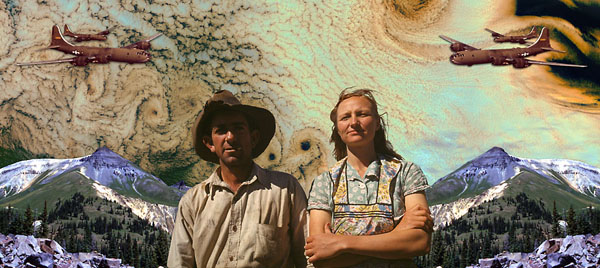 Salt of the Earth No. 2, digital collage
image size = 4700×2100 pixels, aspect ratio = 1: 2.236
©2012 Doug Craft
For figurative collage objects like people and things, I started going through my own stock of family photos and portraits of friends taken over the years, and some other public domain sources like a calendar of historic photos from my agency, or my father's cruise books – yearbook-like mementos the Navy published for the crew and families after each 6-month sea duty deployment. The National Archives images are a great source for historical photos of people and industrial scenes and I have been cutting out a collection of them since October using Photoshop. I obtained lots of images of aircraft from the US Air Force and Navy web sites, and several years ago I built a bunch of scale model airplanes, doing research to replicate accurate historical markings and trying to make the models look stressed like real combat aircraft. Since October, I have been shooting these model airplanes in my studio using a green screen and digitally cutting out the resulting images.
What equipment do you use to make your microphotos?
I used polarizing microscopes, and dissection and phase contrast microscopes that were available for me to use after hours where I worked as a scientist. The geologists identify minerals in thin flat rock samples called thin sections that are mounted on a slide using a polarizing, or petrographic microscope. Polarizing filters in the optical path cause crystalline materials in rock thin sections to exhibit vivid colors. I shot many rock thin sections that our geologists prepared for rocks used structurally in dams all over the western US. Since I had access to a chemistry lab, I also prepared my own slides of chemical crystals and shot them on the polarizing scopes.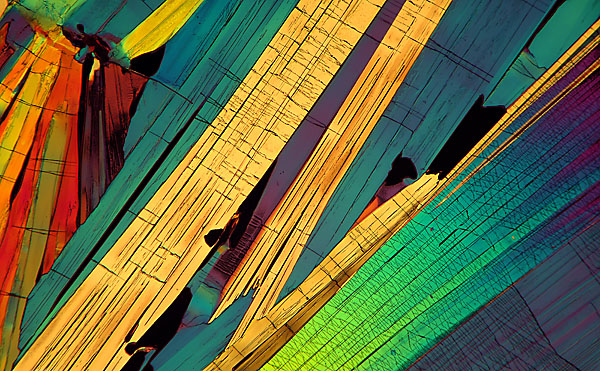 Benzoic Acid Melt Crystal 2006-056, Microphoto
image size = 3400×2100, aspect ratio = 1: 1.618
©2006 Doug Craft
I started shooting thin sections in 2000 using a 1971 Leitz DiaLux-Pol polarizing trinocular microscope with a Leitz/Wild 35-mm camera and a Nikon Labophot-Pol polarizing microscope with a Nikon 35-mm film camera. Focus on these microscopes is accomplished using a t-mount eyepiece that is an approximation of the film plane you use in an SLR. With the very narrow depth of field in optical microscopes, focus using a t-tube was hit or miss. I eventually got an eyepiece adapter, a ScopeTronix MaxView eyepiece adapter that allowed me to use my D-70 and focus accurately using the film plane. This improved the focus situation somewhat.
I shot a bunch of butterfly wings using an Olympus SZH-10 dissection microscope with a t-tube adaped Nikon FG 35-mm film camera, and focused halogen specimen surface incident lighting. Prepared biological specimen slides from Accu-Scope were photographed through a Zeiss Standard 16 Phase Contrast Microscope with an integrated Zeiss M-35 35-mm film camera. You can see additional details on these scopes here.
I have also used an Epson Expression 1680 high resolution flat bed scanner as a microscope. You simply place a leaf or other object on the glass, and scan a small area at 2400 or 3600 dpi. Don't tell anybody about this – it is top secret!
(editor's note:  It always make me smile when artists and creative types take a piece of equipment and bend and torque its use in a new direction.  Doug, I will try to keep your use of the scanner a secret, but since it is our there, I might just have to give it a shot.)
What are the themes in your collages. Planes, personal family history and nature all seem to play a part. Why is that?
I have two different thematic types of collages. One type I call the collage of backgrounds, where fractal and abstract images are combined using proportional squares and Golden Rectangles. These collages generally combine natural fractal images from varying scales of magnification, and may use specific themes like my Solar Mandalas, or my Elements in Golden Ratio series that used images of earth, air, fire, and water. I would say that nature and Sacred Geometry dominate in these collages, and what I am expressing is the beauty and perfection in nature and the deeper spiritual purpose of art.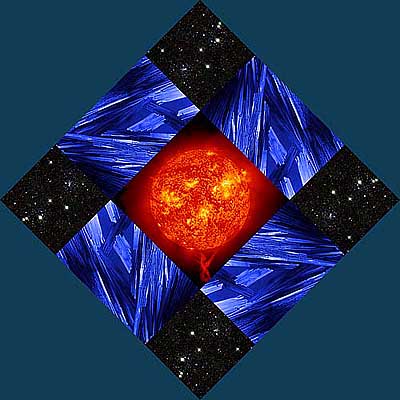 Red Sun Mandala 2006-001, digital collage
image size = 4700×4700 pixels, aspect ratio = 1:1
©2006 Doug Craft
My figurative collages are generally more playful because the figurative objects have symbolic associations and can be combined in ways that suggest mystery, irony, or paradox. Most of the images I am drawn to reflect my life-long interests, influences, and background. I think it is important for artists to create work that is grounded in personal experience in our time and culture. Kandinsky said "Every work of art is a child of its time."
I grew up in a Navy town, Pensacola, Florida, and my father was a sailor who worked on airplanes. Growing up there were always noisy Navy planes and helicopters everywhere. I was a WW-II junkie and built model airplanes and was always drawing pictures of airplanes. So my attraction to airplanes is long standing. They may represent many positive and negative things – the freedom of flight, patriotism, protection, empire, warfare, waste, mass murder, destruction, masculinity, and technology. Anyone who has been to an air show and seen the Blue Angels or the Thunderbirds knows how viscerally exciting – and intimidating – military jets are. They are awesome and terrifying symbols of our age and civilization.
Many of my collages combine feminine and masculine images that speak on some level to the duality of biological life and sexual reproduction. Many of the images I am processing now from the National Archives are of women working in aircraft factories in WW-II, which brings up a different take on the masculinity of airplanes and warfare.
Fractal F-86s, digital collage
image size = 4700×2100 pixels, aspect ratio = 1:2.236
©2012 Doug Craft
War images, industrial facilities, and atomic detonations are another theme that keeps coming up for me. These images arise from my experience as an environmental scientist where I looked first hand at data showing that we were destroying the environment, wildlife, and the fragile ecosystem that supports life. I also have studied Peak Oil and energy depletion, and the danger to mankind from resource wars that spiral out of control is another issue that really concerns me. These admittedly disturbing collages are a combination of my way of dealing with the bad news, and sounding a warning of the danger we face as a species.
(editor's note:  Doug is showing his side as the caring scientist.  His detail research into peak oil is something that should be read by anyone who cares for the world we live in.)
I am also in a more reflective period these days. After my father died in 2008, my mom gave me a big box of family photos that I scanned. This led me to write a family history and re-connect with cousins and relatives I had not seen in over 30 years. I have also been processing many of the family photos for inclusion in collages. At this stage of my life, death is no longer an abstraction, and the meditation on my own origins, family, and friends who have died is another theme in my figurative collages.
Some artist's collages are very complex, yours tend to be simple and direct, what are the reasons for simpleness?
I like to use strong formal composition in my art work, and I find that strong composition and eye movement are enhanced with fewer objects. I compose the collages so that the figurative objects draw the eye along proportional power points and diagonals within the Golden Rectangle (aspect 1 : 1.618…) or Square Root of 5 rectangles (1 : 2.236…). Since I am often using abstract/fractal backgrounds that are complex, I prefer to use only one or two figurative elements so the images do not become too busy.
You have a background in science, music and art, How are they all related?
Well, I see all three as creative vocations and have actually discovered much commonality between the supposedly different disciplines. I think it's inaccurate to contend that science is left brain and art and music are right brain. All require both sides of the brain and depend on creative inspiration that is ultimately spiritual and deeply mysterious in origin. I have recently had a chapter I wrote on this very subject accepted for publication in an academic book that should be published in the spring. If your readers are interested, they can download a PDF file of the final draft of this paper that discusses the commonalities between art, music, and science. I also discuss the Golden Ratio, fractals, and the holographic metaphor that form the basis of my theory of art.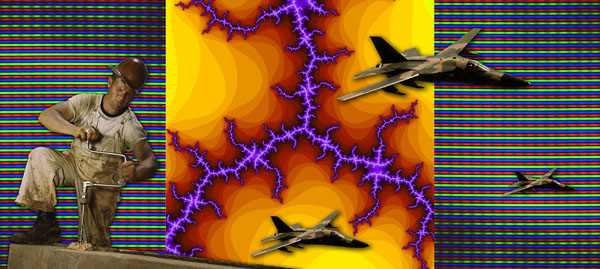 Trouble at the Job Site, digital collage
image size = 4700×2100 pixels, aspect ratio = 1:2.236
©2012 Doug Craft
I love how your microphotos and your found images are intertwined, Why is it important to include some of your original images in your collages?
As I mentioned, I am now using many more of my own images because of intellectual property issues. And, many of my own microphotos, macro, and landscape images are better than what is available in the public domain. But ultimately, the collage stands on its own – the fact that I actually shot a landscape, microphoto, or image of a person is less important than whether the collage succeeds as as a work of art.
Do you approach music and your art differently?
When I am playing in my band the creative process is collaborative, so it's really different from making art which is mostly solitary. If you are talking about my composed music – that process is actually very similar to collage. I compose my music using Ableton Live and Acid Pro software on my laptop. These programs are designed to work with loops (pre-recorded musical passages) to create musical collages. Some loops are copyright free, some are public domain, some I record using real musical instruments, and some I create using Ableton Live. So the similarity to how I make digital collages in Photoshop is striking.
Who are your artistic influences and why?
Besides my mentor, Duncan Stewart, my biggest influences are artists and musicians who work with a sense of the spiritual in their art and their aesthetics. That would include Kandinsky, Paul Klee, Mondrian, and Max Ernst from the art world and musicians like John Coltrane, Steve Roach, Jon Hassell, Steve Tibbetts, and Robert Rich. Compositionally, I love Edward Hopper's paintings and really enjoy Gerhard Richter's work. Gerhard also likes airplanes!
I also owe a great deal to the scholarship and writing of Joseph Campbell, and my philosophy professors, Ralph Hunt (aesthetics), and Robert Kleinman (eastern philosophy and cosmology). Campbell exposed me to the aesthetics of James Joyce and Thomas Aquinas, and the notion that art could be a valid spiritual path in life.
What projects are you currently working on?
I am in the middle of digitally cutting out a massive load of images I have collected over the past 30 years, and have a large body of new collages on the way. Several new series should be appearing this spring. The next big art project I have been planning is a series of Golden Rectangle paintings based on some of my microphotos. Musically, I will be getting back to composing with Ableton and Acid and continuing to play bass with Slag Heap.
For the Lucid Communication community, where can we see more of your work? (website, social networking, music, books?)
I am on Facebook, and still have a Myspace profile (but I am not active there anymore). The best place to see my work and listen to my tunes is on my websites:
Art website – Doug Craft Fine Art
Music website – Doug Craft Fine Art Music
Any closings, comments or Lucid Thoughts?
Thanks for the opportunity to toot my horn, Jacob! I would just pass on that the most important thing artists and musicians can do is to regularly work, create, and to develop a habit of working on their craft. Artists are the counterbalance to a lot of negative energy coming to a head for our civilization. Our contributions may not get monetary recognition, but they are extremely important and needed.
I have to agree that the world is in the midst of an unpredictable upheaval and art with play a role in the outcome.  We do art not to make a fortune, we make art because I don't know what else I would do to make sense of this crazy mixed up beautiful world.
I would like to thank you Doug for taking the time to delve into your convergence of photography, collage, and music.  I feel better knowing that there are good people like you in the world.  You, personally, have been a positive influence in my life and I am thrilled to be able to share your views and your work with Lucid Communication.
Doug curated a selection of images to be included for the Lucid Communication community.  I again invite all who view Doug's visual explorations by spending some time on his website.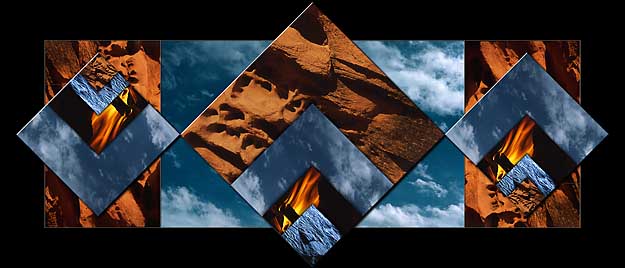 EARTH – Elements 1 3(phi) 2004-002, digital collage,
aspect ratio = 1: 2.854
©2005 Doug Craft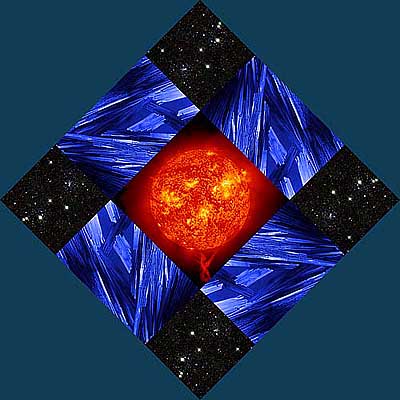 Red Sun Mandala 2006-001, digital collage
image size = 4700×4700 pixels, aspect ratio = 1:1
©2006 Doug Craft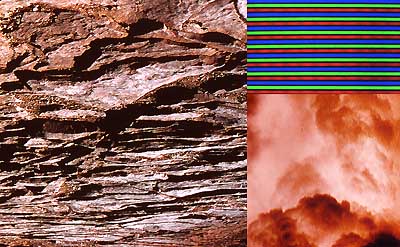 Golden Rectangle Coil 2008-004, Photo collage,
13″ x 21″ framed, aspect ratio = 1: 1.618
©2008 Doug Craft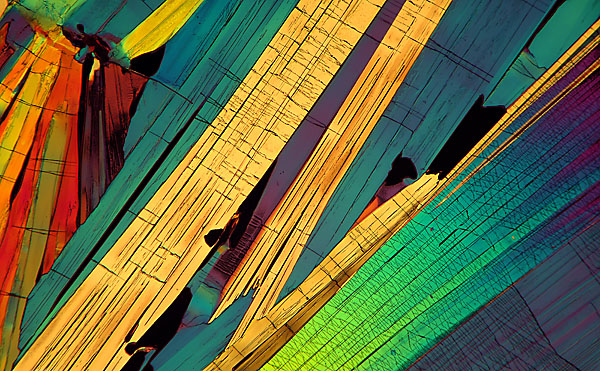 Benzoic Acid Melt Crystal 2006-056, Microphoto
image size = 3400×2100, aspect ratio = 1: 1.618
©2006 Doug Craft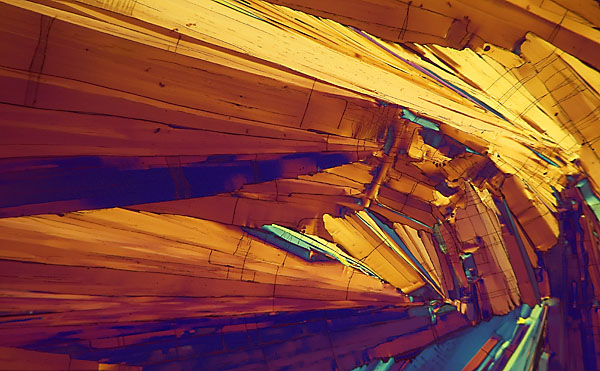 Benzoic Acid Melt Crystal 2006-043, Microphoto
image size = 3400×2100, aspect ratio = 1: 1.618
©2006 Doug Craft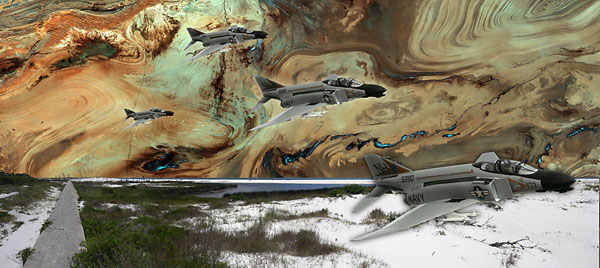 Phantoms, digital collage
image size = 4700×2100 pixels, aspect ratio = 1: 2.236
©2012 Doug Craft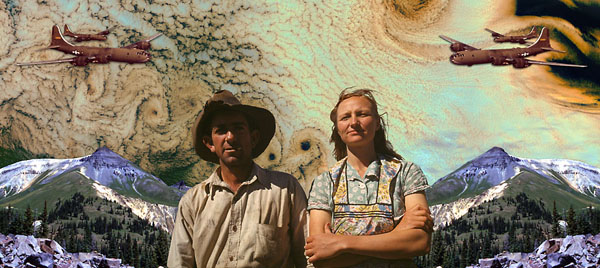 Salt of the Earth No. 2, digital collage
image size = 4700×2100 pixels, aspect ratio = 1: 2.236
©2012 Doug Craft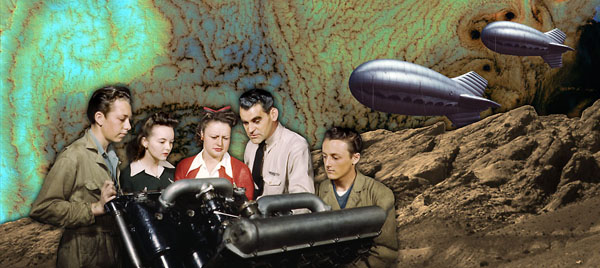 The Anatomy Lesson, digital collage
image size = 4700×2100 pixels, aspect ratio = 1:2.236
©2012 Doug Craft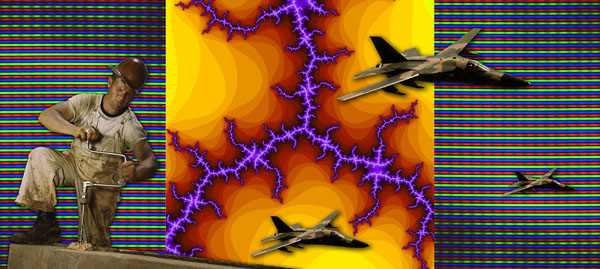 Trouble at the Job Site, digital collage
image size = 4700×2100 pixels, aspect ratio = 1:2.236
©2012 Doug Craft
Fractal F-86s, digital collage
image size = 4700×2100 pixels, aspect ratio = 1:2.236
©2012 Doug Craft
All images contained in this post are ©2012 Doug Craft, permission to post them was given to Lucid Communication by Doug Craft 2012.
3 Responses to "Doug Craft: an Convergence of Photography, Collage and Music"
Jerry Says:
January 21st, 2012 at 11:00 pm

What an amazing and inspiring interview. Always great to hear that other artists are wrestling with similar themes like death, family, aggression, and to see how Doug is expressing these as someone who has been experimenting with form for so long is breathtaking. thanks Jacob keep these interviews coming.

Jacob Says:
January 22nd, 2012 at 3:15 pm

thanks jerry for taking the time to respond.

doug has an amazing story.
i am glad to know him and bring his
story to a larger audience.

February-March 2012 bulletin | The Geometry Code:Universal Symbolic Mirrors of Natural Laws Within Us Says:
April 1st, 2012 at 5:04 am

[…] Craft's Convergence of Photography, Collage and Music has a bit of retro eclectic art with a bit of golden proportions and […]
Leave a Reply